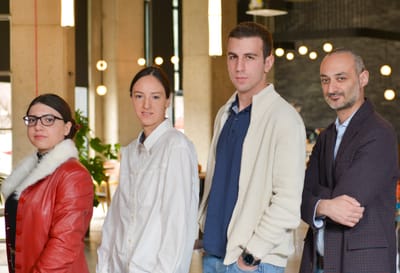 Hello World exists to solve the critical issues facing our clients, both large and small. Our unique approach is not only what differentiates us, but also what makes us successful.
Our team consists of highly qualified members who adore their job and are ready to commit to achieve the best results.
Andro Kiknadze
Managing partner
Digital marketing and eCommerce technical support
Andro is one of the founders of HWC. Andro is also founder of the oldest and biggest online holdings - Digital Ads (Myvideo, iMovies, Be.ge, Amindi.ge, Top.ge, Review.ge); Andro has gained enormous experience in 10 years working on eCommerce and digital marketing. Nowadays he is regional representative of SAP company in southern Caucasus.
Tamuna Pruidze
Managing partner
Business analytics
Tamuna is one of the founders of HWC. Tamuna has 7 years of experience in modeling business processes, analyzing and managing healthcare, logistics and digital marketing. Besides Tamuna has 5 years of experience in planting the EPR system throughout various industries in Israel and other parts of the world.
George Wolski
CEO
George is Ceo of HWC. Besides he is lecturer in the Caucasus University the field of Innovation Management. George has more than 20 years of experience George has more than 20 years of experience in managing various companies throughout Georgia, including the multi million-dollar project management of MagtiCom and Silknet. George has held various managerial positions in technical, marketing, broadcasting (television) and corporate monitoring positions. He also has experience in startup development and e-commerce. George is also the owner of a small wine company, which within 2 years of its establishment has established its place in 8 countries, in the premium class segment.
George holds a PhD in Communication Engineering, a Master of Business Administration degree from Grenoble Business School, and a Startup Implementation and Development Specialization Course from Brooks University in Oxford.
Giorgi Amashukeli
Digital Marketing
He is a graduate student of Caucasus University Marketing (CSB) and a digital marketing enthusiast. Has been involved in marketing since 2018 and works as a digital marketer at HWC. George's ambition is to become one of the leading digital marketers in the country.
Mariam Khizanishvili
Researcher-Analyst and Manager of Written Communications
Mariam is a research analyst at HWC and is currently a written communications manager. Mariam has 3 years of experience in socio-economic and policy research and analysis at organizations such as the Fund for Innovation and Development (Kiev and Tbilisi), the World Campus for Human Rights (Venice), the European Training Center (Yerevan), the Office of the UN High Commissioner for Human Rights (Brussels). In addition, Mariam advises organizations on capacity building and structural development across Eastern Europe. Since 2018, Mariam has been working with the Brussels-based and Belgrade-based networked youth organizations on international project planning, management and reporting in collaboration with the European Union, the Council of Europe and the United Nations.